BARNDANCE CALLER IN SHREWLEY, WARWICK,  WARWICKSHIRE AND WEST MIDLANDS 
WE SENT ALAN OUR BARN AND LINE DANCE CALLER SPECIALIST TO RUN A WESTERN THEMED PARTY AT SHREWLEY VILLAGE HALL FOR ANNETTE ON HER 60TH BIRTHDAY.
http://www.shrewley.org/village_hall.html
A GREAT NIGHT
BARN, SQUARE AND LINE DANCING FINISHING WITH A PARTY DISCO!!!!!!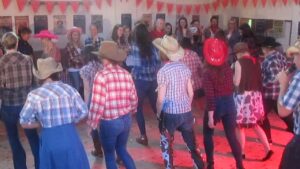 Hire one our experienced  Barn Dance  AND Line Dance Caller Professionals
Barn Dance and Line Dance Caller Direct helps you organize a successful BARN DANCE LINE DANCE and or SQUARE DANCE
OR COUNTRY & WESTERN THEMED EVENT
ANY Social or Wedding can use the BARN DANCE style of Entertainment for Dancing in ANY Hall, Barn, House or Hotel.
YOUR EVENT can become a FUN BARN DANCE  evening making it what everyone wants.
A BIG SUCCESS TO REMEMBER FOR A LONG TIME.
Even if you have never tried to organize a Barn Dance event—just relax! WE CAN HELP YOU–USE OUR EXPERIENCE. See 'How we can help?'
With the experience of our EXPERIENCED BARN DANCE CALLER / SQUARE DANCE CALLER and PRESENTERS using Professional Sound Systems to play music and take your guests through the steps your Barn Dance will go with a real SWING very quickly.